Cross party support for Ebico and Robin Hood Energy partnership to fight fuel poverty in the UK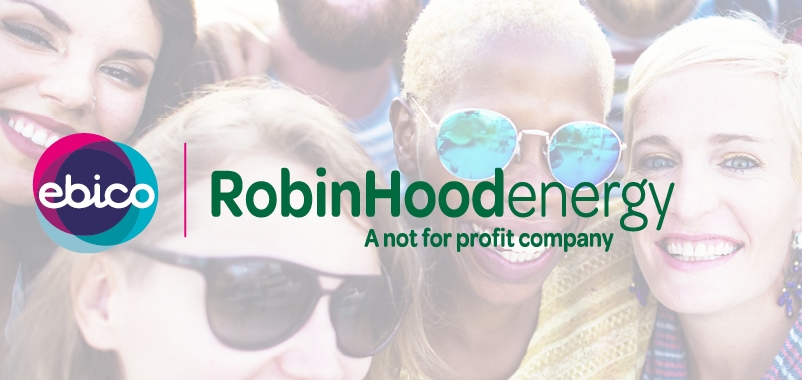 Minister for Energy and Industry, Jesse Norman MP says: "It's good to see Ebico and Robin Hood Energy working together."
Shadow Energy Minister, Alan Whitehead MP says: "This is a match made in heaven"
Ebico and Robin Hood Energy launch Ebico PrePay at a discount to existing tariffs
Not-for-profit partnership will spend surpluses on fuel poverty projects around Britain
To date, Ebico has invested £1.3million in fuel poverty projects around Britain
Ebico and Robin Hood Energy have today unveiled a new energy partnership to offer a brand new prepay tariff, as they vow to continue their fight against rising fuel poverty in the UK and provide energy contracts that function fairly for all consumers.
The partnership will offer the brand new tariff:Â  Ebico PrePay, which offers customers affordable energy and a flexible deal with no exit fees or tie-ins.
Minister for Energy and Industry, Jesse Norman MP said:  "Smart pre-payment is an important part of upgrading the UK's energy system and helping people to save money. It's good to see Ebico and Robin Hood Energy working together and using smart pre-payment to support their customers."
Dr. Alan Whitehead, Shadow Minister for Energy and Climate Change, said: "This is a match made in heaven – a not-for profit retailer linking up with a not-for profit energy supplier to provide highly competitive tariffs for the prepay sector who need those good tariffs more than anyone else. It's also a challenge for those traditional energy retailers. Ebico and Robin Hood Energy are now making the weather on energy retailing – what are you going to do to catch up? All power to your elbows on this initiative – and keep it coming!"
The Ebico PrePay tariff, designed for prepay customers, offers un-rivalled flexibility, with no exit fee and a price guarantee until December 2017. The tariff is also 8.5%1 less than Ebico's existing prepay tariff, with the price guaranteed until at least December 2017.
Ebico was founded in part to offer a better deal to those using prepayment meters and the new partnership is designed to allow them to offer a new alternative to this section of the market, which is often used by the fuel poor.
The new partnership with RHE will allow the company to continue on its founding mission, one which has already seen over £1.3million donated to fuel poverty charities and projects across the UK.
Customers switching to Ebico PrePay, and looking for the convenience of topping-up their meter credit from their mobile phone, can register to have their meter replaced, for free, with a smart pay-as-you-go meter this year.2
Ebico is rated as the top-3 energy suppliers in the UK by Which? in its 2017 survey. The company is highly commended for its superior customer service and is the fastest to pick up the phone to customers.
Ebico will continue to provide its current EquiGas and EquiPower tariffs, supplied by SSE.
Phil Levermore, CEO of Ebico, said: "We are delighted to be able to announce this partnership which will help our customers and our continuing fight against fuel poverty in the UK. We see this as a new way of providing energy – an affordable, flexible tariff with a founding ambition to make society a better, fairer place. Robin Hood Energy shares our ethics and our philosophy and we are resolute in our aim of helping to irradiate fuel poverty in the UK. At a time of rising energy prices, this partnership guarantees to fix prices until at least December and will always do what is in the best interest of our customers."
Councillor Alan Clark, Chair of the RHE Board, said: "This partnership is a real meeting of minds. Ebico and RHE are both committed to providing a low cost, flexible tariff to our customers and using any surplus we have to fight fuel poverty across the country. This partnership should send the message to the rest of the industry, government and our consumers – there is a different and better way of doing business in the energy sector. RHE, as the first council owned supplier, and Ebico as the UK's first not-for-profit energy company are at the forefront of what we hope will become a new movement in the UK energy market."
Robert Courts MP for Witney: "The partnership between Ebico and Robin Hood Energy is a fantastic example of a local business here in West Oxfordshire, expanding and offering an innovative solution to a national problem.  Ebico was founded to fight fuel poverty and I am delighted that this partnership will allow them to continue this important work.  This partnership is a welcome display of innovative thinking that puts customers first.  I am proud that Ebico are based in West Oxfordshire and wish them well with their work."
Callum McCaig MP, SNP Spokesperson on Energy: "No consumer should be paying more than they have to for energy costs, and whilst work has been done to regulate cheaper tariffs for direct-debit customers, there has definitely been a gap left for those on costly pre-payment meters. The efforts of Ebico and Robin Hood Energy are an encouraging start to tackle fuel poverty, and it is good to see the companies themselves taking the initiative on this issue. Hopefully this may be the start of working toward a future where those individuals who are not able to secure a direct-debit agreement are not then penalised and discriminated against with higher charges, as we should never expect the least well off in our society to foot the highest bills."
Joanne Wade, CEO of Association for the Conservation of Energy, said: "We welcome the news that Ebico and Robin Hood Energy are working together to reduce the price of energy for some of the households who most need lower bills; we urge them to also help their customers to manage their energy use and invest in home energy efficiency."
[button href="http://quote.ebico.org.uk" class="primary" target=""]Get a quote[/button]
[1] Average savings in comparison to Dual Fuel customers on Equigas and EquiPower, and based on ofgem's Typical Domestic Consumption Values (TDCVs) for medium user of 3,100 kWh for electricity and 12,500 kWh for gas.
[2] Fitting subject to successful survey and installation date subject to operational constraints.